Doesn't this kitchen look so inviting?
I found it at:
I was looking for a fun kitchen to get us in the fall mood...
I think this one does it.
I love the island and the mint green with the wood tones.
And the basket in the island...so warm...
Let see now what will we cook....
I think I will stop by:
And find one of her wonderful recipes....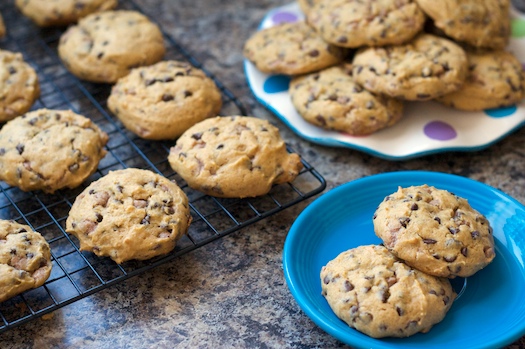 Adapted from the Boston Globe recipe.
Yields 3 dozen cookies
3 cups flour
1 teaspoon baking soda
1 teaspoon baking powder
1 teaspoon ground cinnamon
1 teaspoon ground nutmeg
1/2 teaspoon salt
1/2 cup (1 stick) unsalted butter, at room temperature
1 1/2 cups sugar
1 cup canned pumpkin puree
1 egg, beaten
1 teaspoon vanilla extract
1 package (6 ounces) semisweet chocolate chips (preferably mini)
1 cup cinnamon chips (preferably mini)
Set the oven to 350 degrees. Line 2 baking sheets with parchment paper. In a medium bowl, sift together the flour, baking soda, baking powder, cinnamon, nutmeg, and salt. Set aside.
In an electric mixer with the paddle attachment, combine the butter, sugar, pumpkin, egg, and vanilla; beating just until blended.
Mix in the dry ingredients.
Remove the bowl from the mixer stand. With a rubber spatula, stir in the chocolate and cinnamon chips.
Using a cookie scoop drop the dough 1 inch apart on the baking sheet.
Bake the cookies one sheet at a time for 13 to 15 minutes or until lightly browned. Let the cookies cool on the sheets for two minutes. Transfer to wire racks to cool completely.